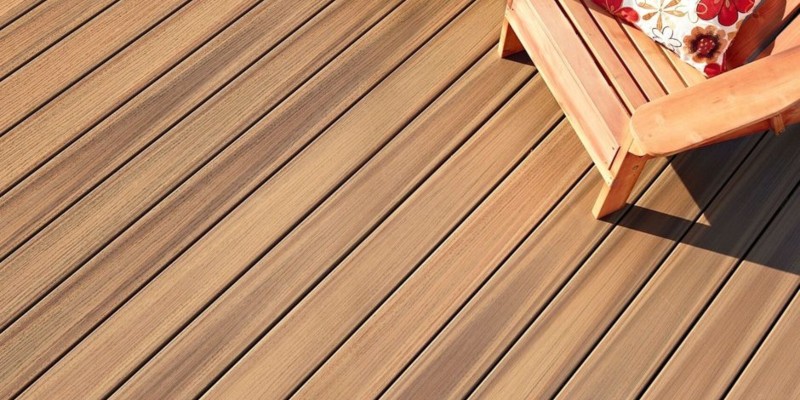 Fiberon is one of the newer companies providing composite decking, but they've gained a lot of ground in recent years. They have an excellent lineup of capped composite boards along with a collection of PVC planks.
Types of Fiberon Decking
| Series | Style | PermaTech* | Colors | Profile |
| --- | --- | --- | --- | --- |
| Fiberon Symmetry | 4-sided capped composite | Yes | 4 | Solid & Grooved |
| Fiberon Horizon | 4-sided capped composite | Yes | 4 | Solid & Grooved |
| Fiberon Paramount | PVC capped on three sides | No | 4 | Solid & Grooved |
| Fiberon Sanctuary | 3-sided capped composite | Yes | 3 | Solid & Grooved |
| Fiberon Good Life | 3-sided capped composite | No | 5 | Scalloped – Solid & Grooved |
| Veranda | 3-sided capped composite | No | 2 | Scalloped – Solid & Grooved |
*See below for description of PermaTech
Fiberon Symmetry Review
Fiberon Symmetry Decking
Composite planks from this series have a clean, matte finish and micro-texturing to give it the appearance of real wood. The boards are covered in a four-sided cap for additional protection, but also reversible. The deep grain looks great and adds a bit of extra traction as well. As for the colors, they are multi-tonal, but the selection is a little sparse compared to other "premium" series from other brands.
The company pulled their hues from one end of the spectrum, so you'll only have darker tones to choose from with their premium product. In this case, it's Warm Sienna, Cinnabar, Burnt Umber and Graphite. If you like variable grain patterns, you will definitely appreciate the Symmetry series.
Fiberon Horizon Review
Fiberon Horizon Decking
Fiberon's second product from their "Best" tier is called Horizon although it shares more similarities than differences to their top option. Both have the companies PermaTech surface protection, but the finish is quite different with the Horizon line. The boards have multiple grain patterns, but not in the usual sense as you'll get one pattern on the top and a different one on the bottom.
The color variance is better with this series although you still only have four options with IPE, Rosewood, Tudor Brown, and Castle Gray. There are four different grain patterns in all, and those patterns and colors will repeat every 70 feet according to the manufacturer.
Fiberon Paramount Review
Fiberon Paramount Decking
The last decking series from their premium tier isn't a composite board, but one made from PVC. Paramount PVC decking is an excellent alternative if you're looking for something light and durable with excellent slip-resistance. As there's no wood used in these boards, mold will never be an issue which makes them ideal for areas around water like a pool or dock.
Fiberon Paramount has a co-extruded cap on three sides, so they aren't reversible. You will want to stay away from rubber mats or anything with latex or vinyl due to the risk of discoloration. Colors for this series include Brownstone, Sandstone, Flagstone, and Mineral.
Fiberon Sanctuary Review
Fiberon Sanctuary Decking
Our first true budget boards come from the Fiberon Sanctuary lineup. They are a bit more rustic than the previous series although still capped on three sides with PermaTech protection. The price helps set them apart, but so does the high-traction grain pattern on the top of each board.
Fiberon offers Sanctuary in three colors with Jatoba, Latte, and Earl Grey. Unfortunately, Jatoba is not available in Canada.
Fiberon Good Life Review
Fiberon Good Life Decking
Fiberon Good Life lives up to its namesake by allowing you to feel like you're living the good life at half the price. These boards are also on the budget tier and three-sided but lack PermaTech protection and are scalloped on the bottom. They are lighter than your typical composite board, but not reversible for obvious reasons.
One perk of this line are the colors as you'll get five to choose from including two solids with Cabin and Cottage. Multi-chromatic colors include Beach House, Tuscan Villa, and Bungalow. The 25-year warranty also applies to this series and the Sanctuary lineup.
Veranda Review
Veranda® composite decking by Fiberon® offers homeowners the benefits of capped composite decking at a price closer to wood. Available in two popular solid colors, Brown and Gray, Veranda composite decking is capped on three sides and backed by a 25-year stain, fade and performance limited warranty.
PermaTech Innovation
Fiberon Horizon composite decking with PermaTech Innovation is a highly engineered, wood polymer composite decking product. Manufactured using the unique Fiberon hardwood/polyethylene substructure, Horizon is made using a co-extrusion process that efficiently blends the ingredients for a solid, dense core that fusion bonds to a proprietary, patent-pending durable layer that we call PermaTech Innovation. The PermaTech surface is formulated for bond strength. For a deck surface, these properties add toughness, tensile strength, relative impact and weather ability and provide stain, fade and scratch resistance. PermaTech provides many of the durability features found in items such as golf ball covers.
PermaTech also allows for low maintenance. Cleaning the Fiberon deck surface usually only requires mild soap and water, but your deck can also be pressure washed with an over-the-counter deck wash, like De-Solve-It.
Another benefit of PermaTech is the resistance to staining and color fading. Fiberon Horizon with PermaTech is backed by an industry first 25-year performance and stain &fade warranty – not that you'll need it. It's engineered to provide a scratch resistant, stain resistant, superior finish that will look beautiful and last for years to come.
See also information about Timbertech/Azek and Trex deck boards.
Contact Us